"Golf architects are the Rembrandts and Beethovens of their domains."
"The game of golf has often been compared with music. In this essay, GHS member Taba Dale, who loves exploring the game through the written word as well as on the course, ponders the game's symphonic synergies." – Jim Davis, The Golf Heritage Society
Why do I say, "Golf architects are the Rembrandts and Beethovens of their domains?"
And not the Rembrandts and Monets of their domain, which at first blush would be consistent with how I describe course designers as artists. Their canvas is the largest in the world — the planet Earth.
I believe that golf course designers are also composers. They are composing an experience for us, taking us on a journey that, like music, when listened to deeply, takes us on a journey. Some designers will start with a welcoming first hole, a handshake, if you will. A straight forward, gentle test to allow us to acclimate to being on a golf course. We have left our everyday world. We are in this unique landscape now.
The assignments of the holes to follow are usually more challenging. Each hole is a puzzle and we are engaged to be more creative or focused, and find resources within us to achieve an outcome: Get the ball into the hole in the fewest strokes (in stroke play).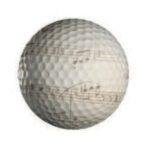 A fabulous course that illustrates a gentle opening handshake is Kingsbarns in Fife, Scotland. Designed by Kyle Philips, it exemplifies outstanding creativity. The first and second holes start out softly and become exuberant very soon after, perhaps like Beethoven's Symphony No.7. Ludwig van Beethoven was a German composer and pianist. He was one of the most recognized and influential musicians of the classical and romantic era, and is considered to be one of the greatest composers of all time.
St. George's Hill, a golfing gem outside London, is a Harry Colt masterpiece. Threaded through heather, silver birch and stately Scots pine, constantly undulating, the genius of Colt's design is on constant display. Like Mozart, an enduringly popular classical composer, Colt's influence was profound and anything but subtle.
Leonardo da Vinci, the Italian genius, fits the "master of his domain" thesis, albeit a much expanded one as he excelled in drawing, painting, sculpture and architecture. His most iconic work, the Mona Lisa, could be considered on par with the Alister MacKenzie's Cypress Point. In both, the monumentality of the composition is undisputed.
Cypress Point might also be a perfect walk with headsets tuned to Johann Sebastian Bach's Prelude In C Major, a musical masterpiece of perfection that would perfectly suit MacKenzie's exquisite terrain, particularly the back-to-back par 3 fifteenth and sixteenth holes.
Occasionally, there might be a seeming lull in the round, a respite from holes by the sea where we are battling the wind. Or a few holes might take us to different terrain, where the player has a change of scenery and rhythm. Then there comes a great crescendo, like in a musical composition, where we feel the exaltation — key word: feel.
Surely you have felt such a thing at the highest point of a links course, or the signature hole of a masterwork such as Augusta National, Pine Valley, or Pinehurst No. 2. Here, the increase of intensity is due a visual experience combined with the challenge the master designer has planned for us. One that cannot but thrill a true golfer who "hears" the symphony of the course in his mind and heart.
At such moments, Rembrandt and Beethoven, MacKenzie and Colt, roll off the tongue like a very smooth Pinot Noir. But that brings another element into the conversation, one best left to the 19th Hole and a consideration of which golf course architects are best with which types of wine. Or whisky.