CUTE UP CLOSE
JP McManus Event at Adare Manor
We spent the entire afternoon yesterday at the JP McManus Invitational Pro-Am, which is staged at the Robert Trent Jones Sr.(1906-2000) course at Adare Manor in County Limerick. It is the last major course he designed. The two-day event, inaugurated in 1990, is played every 5 years—and has raised a staggering €55 million for groups in the Mid West working with underprivileged and disadvantaged.
Kevin cleverly remembering a back road, skirted around the miles of cars in a massive 2+ hour back-up to get into Adare.  We parked on a grassy lot and followed the stream of people through a field of waist-high barley, walking single file along the giant tractor tracks. It was an almost mystical scene, with the stately Adare Manor Hotel finally emerging from behind a wall of trees, as we golf pilgrims emerged from a tan sea of wavy stalks of heady grain. Threading our way through the throngs of people, we spotted The Dog House, and got in the lengthy queue for a not-so-hot-hotdog. Hungry no more.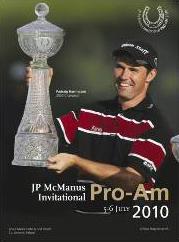 The record-breaking crowd of more than 40,000 came to watch defending champion Padraig Harrington, reigning U.S. Open champion, Graeme McDowell, and 13 of  the 16 top players in the world—yes–including Tiger Woods. We were part of the enormous gallery on the 12th green, where we did see him on his way to a painful 79. On this testy 7,453 yard layout, in windy conditions, Harrington finished with a 76, we later learned, taking a double bogey on the treacherous 18th.
Much to my surprise and delight, we got to see my DC hometown hero, Fred Funk, tee off on the 167-yard par-3 sixteenth. First shot in the water. Second shot just a few feet  from the flag. In this festive atmosphere, Fred eagerly turned around and signed lots of hats for dozens of kids. This is when I realized, that oh, Tom Lehman was in the next group. Get ready!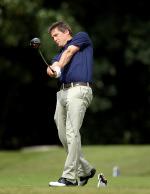 The jolly crowd was funny when Lehman consulted his caddie about what club to hit in the swirling wind to carry the water to a narrow, heavily-bunkered green—they yelled in unison: 7-iron! When the 7-iron carried over the green, someone said Fred Funk hit 9-iron, to which Lehman quipped, they better give him a drug test-! With the page opened to Tom's photo, I got my outstretched program in his line of sight and said: For a Scottsdale fan! My new "hometown"hero (who lives at DC Ranch, not far from me) said – the weather's much better here isn't it? You bet it is!
But perhaps the biggest hero of all for me, was the one-legged amateur player Manuel de los Santos, playing with Lucas Glover,  who after knocking his bogey putt in with his rubber-footed crutch, was all smiles and bowed gracefully to the cheering crowd.Last thrill of the day—while walking down the 18th, seeing the crush of giggling girls trying to get their picture taken with Hugh Grant—yeah—he really is kinda cute up close!