Sugar white beaches and turquoise waters
We were hoping to get to Askernish Golf Club by 2 PM today (June 25th) but it all depended on the ferry crossing from Harris to North Uist (Uibhist). Then we had to drive down through the Isle of Benbecula (Beinn nam Fadhla or Beinn na Faoghla) on to South Uist. Uist is pronounced "You – ist". Causeways connect all these lower islands of the Outer Hebrides and we were never sure when we'd reached South Uist.
The journey took us along a spectacular low-lying coastline with sugar white beaches and turquoise waters. You could forget you were 57.26 latitude (higher than Moscow) and think you were in the Caribbean. South Uist has a bedrock of Lewisian Gneiss which is part of the Earth's deep ancient crust. This rock is the oldest in the British Isles and it was brought to the surface by tectonic movements.
By the time we reached the Lochboisdale Hotel and climbed the stairs to our room, it was already 2 PM. We figured it didn't matter much, since it wasn't like having a tee time at Muirfield, which is a highly perishable commodity. At Muirfield there is no being late. You might not even be able to go off the 10th tee. You'll probably just have to forfeit your round altogether.
After we changed into our golf gear, we hustled back into our car and drove the few miles to Askernish Golf Club. We pulled up beside the small building that functions as a cafe on one side and a smallish pro shop on the other. The front door was locked and a sign taped to the window proclaimed "CLOSED".
We looked around for an honesty box (it allows you to pay your green fee on trust) but then Kevin said, "C'mon, let's go play and pay our green fee tomorrow. Just as we turned around to head to course, the door sprung open and Jennifer Macleod greeted us with a big smile. She had been inside restocking the wee pro shop, so we were able to pay our green fee after all. Thank goodness, because we were able to obtain a scorecard and a yardage book that also had a course map. That turned out to be a big bonus.
Like children, we romped over to the first tee, giddy with excitement. Our drives found the fairway and we were off!
For the first three holes we were euphoric, in spite of the strong wind and frigid temperature. To be playing the Old Tom Morris course that had been "lost" and then "found" was an ambition I'd had for several years. I didn't want to do much research online ahead of time so I could approach the adventure as a blissfully naive golfing pilgrim.
Now that I am writing a story about it, here is the history from the Askernish Golf Club website:
Askernish Golf Club bordering sea shore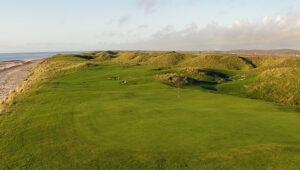 "In June 1891 'Old' Tom Morris accompanied by his companion Horace Hutchinson travelled to South Uist at the request of the landowners to inspect the machair lands with a view to laying out a new course. 'Old' Tom eventually laid out eighteen holes on the rolling dunes of Askernish Farm, although he declared that the choice of links land available was 'staggering'. Horace mentioned the trip in a magazine called 'Golf', the forerunner of Golf Illustrated, for which he was to contribute regularly over the next thirty years.
"The pair continued their journey, moving north to Stornoway to inspect a new course which had been completed the year before.
"During its early years the course would have been used to entice visitors to the island, as a form of sport to be enjoyed along with the traditional pursuits of fishing and shooting. We know from Frederick Rea's book A School in South Uist that some of the residents were regular players but these would have been mostly confined to the local clergy, doctors and teachers. It was maintained by local farm workers using scythes — they were also seconded as caddies for the visiting gentry.
"Askernish farm was adopted into crofting tenure in 1922 and a lack of consistent maintenance led to the course's general decline until Scottish and Northern Airways started a regular air service from Renfrew to Askernish in 1936."
The first person I spoke to who actually played the course was Angus Watson. He told us a couple of years ago, when we met up with him at Turnberry, that he played in The Askernish Open! I was amused to hear they had a Texas Scramble format one day and even a "ceilidh" (pronounced 'kay-lee') in the maintenance sheds, with music, dancing, and an insane amount of drinking.
South Uist's most famous descendant
Apart from the falling down drunk drinking part of his story, I was even more determined to get to this utterly remote golfing heaven. And now we were here! But where were our tee shots? We were playing the fourth hole, named "Flora" as a tribute to South Uist's most famous descendant.Flora MacDonald, 1749
If not for Flora MacDonald (Gaelic: Fionnghal nic Dhòmhnaill, 1722 – 1790), Bonnie Idiot Prince Charlie, the boneheaded Young Pretender, who badly lost the Battle of Culloden, might never have escaped being captured or murdered.
Flora was courageous and cunning. For her role in protecting and transporting the fugitive Prince, she was imprisoned in the Tower of London for an entire year.
She was eventually released in 1747 under a general amnesty and returned to Scotland, where in 1750 she married her kinsman, Allan MacDonald of Kingsburgh. Flora was a member of the Macdonalds of Sleat, but upon marrying Allan and after struggling financially, they emigrated to North Carolina in 1773. Since they backed the British government during the American Revolutionary War that started in 1775, they wound up having to surrender their American estates and eventually sailed back to Scotland. They spent their last days in Penduin, Skye, where Flora died in 1790 at the age of 68.
While on Skye, we went to see the extraordinary 28-foot high Celtic Cross that marks her grave at the Kilmuir Cemetery. It was a very moving experience, standing atop a windy hill, gazing up to see the granite memorial, etched with South Uist, her birthplace. Some puzzle pieces are starting to fit together.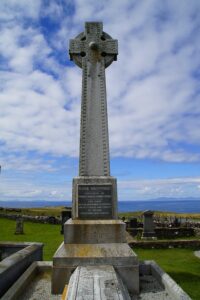 Having learned some of the history of the bloody Battle of Culloden, which took place on April 16, 1746, I knew how the redcoats of Cumberland's army bludgeoned the fierce but exhausted Clansmen on the Highland moor near Nairn. Charlie escaped and lived out the rest of his life in Rome, where he was born; but I do not know the details of where he went while on the run.
Flora is considered a hero; Charlie not so much. He never again had any contact with the people who fought and died for him. In a large oil painting by Angus MacPhee in the Skye Museum of Island Life, Charlie is depicted turning his back on the Jacobite Highlanders who took up his cause to return the throne to the Stuarts. He failed so miserably, then left his countrymen to be slaughtered by the Duke of Cumberland. The behavior of Cumberland's troops, who followed orders to rob and plunder all food and livestock, then burn the Highlander's homes to the ground, earned him the title of "The Butcher."
Any highlanders who survived the pillaging and burning, were banned from wearing their tartans, playing bagpipes, and were barred from speaking their own Gaelic language for years to come. Such was the devastating aftermath of Charlie's bungled bid to rule Scotland. All of this history is embedded in the Hebridean Islands like the Lewisian Gneiss.
Back to golf on the carpet of daisies
We found it very frustrating to lose our white balls in the sea of white daisies that blanketed the fairways. There are few things that rob your round of joy, but when you know your well-executed shot finds the intended target and then is nowhere to be found, that is one of them. Perhaps if we were playing with pink or orange balls, we could have detected them without spending ten minutes or so scouring the vicinity of their landing area.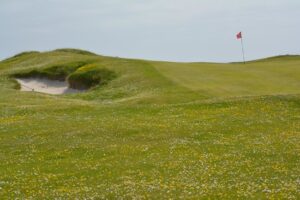 But both Kevin and I play white balls and we did not make the adjustment to adapt to the playing conditions of the course. We gave up after playing the first nine and could see from the course map that we could cut across to the 16th hole, then play the last two and find our way back to our car.
We did come back the next day and began by meeting with Allan MacDonald and Jennifer Macleod, before heading out… again loyal to our white balls!
We learned that the course is now owned by the local community and Allan, the Head Greenkeeper, is the only full-time person looking after the course. Well, no wonder the fairways are covered in daisies.
I asked, "How often do you mow?"
Allan replied, "Once a week this time of year. You have come during daisy month. Next month they'll all be gone!"
Oh, now we know. I would also try to do a better job of embracing Andrew Greig's philosophy, so elegantly expressed in his book Preferred Lies: "The course, as always, is a given. It can't be adapted. I must adapt to it."
When Kevin and I commented about the profusion of menacing and even dangerous rabbit holes, Allan declared, "People say they like a natural course but then they don't want any nature. The rabbits have as much a right to be here as we do." But I was thinking, can't they have all their deep holes and warrens over in the rough and just let us have the fairways?
We had a better round the second time, many pars for Kevin and a couple for me, in spite of the bumpy, slow greens. We did adapt a little better, having to hit our putts with absolute conviction, especially into the wind. Too many were left short or I didn't read the break right in order to have a feel-good kind of score. Kevin was going great until the wheels came off on the 14th hole and then his round unraveled too.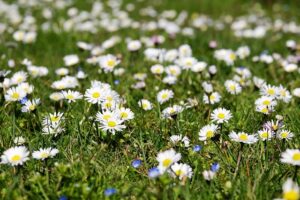 Golf in a place like Askernish is exhilarating and perhaps in equal measure, humbling. It felt like we were playing golf more like it would have been 400 years ago. It was primitive, even.
We have all become so accustomed to perfectly manicured tees, fairways and greens. It's almost tragic, in a way, that golf has evolved to where our expectations are such that we don't want to see any daisies or buttercups on the tee boxes (I didn't mind them actually because I hadn't lost my ball yet!) or on the fairways. Thank goodness there were no daisies on the greens.
We were happy to have a diagram of the holes in our yardage book, but other than that, you just have to navigate as best you can, using your eyesight.
I thought I might already know the answer before asking Allan, "What about having a 150-yard marker on the longer holes… would that be something you'd consider?" Then I sheepishly added, "Or would that go against your ethos?"
He smiled. "No, there won't be any markers…you've got your yardage book and that is all you need."
So, if you enjoy a memorable challenge, make the journey to the Outer Hebrides and play Askernish. Likely, you will already be aware of the course's historic significance and recognize that it is a "must play" no matter what it takes to get there. The sojourn itself becomes a badge of honor for the passionate golf enthusiast, and is a salute from all those who revere Old Tom.