February 2021
In February 2021 I became a member of the Golf Writers Association of America. It is a great honor to join this august organization, dedicated to the promotion and continued improvement of golf journalism.
I am very glad to add my voice to the rich literature of the game of golf through my books, which include: Golfers, Scotland is Calling, A Stroll on the Old Lady, and A Summer in Ireland. Other items submitted for consideration were essays and stories like Symphony of Golf and Daisy Month at Askernish, published in the Golf Heritage Society journal The Golf. Additionally, contributions like my essay Gift of Time for Golf News Hub were part of my application. To date, I have written over 200 golf-related stories/essays, and my recently completed book — Terroir of Golf — is 70,000 words!
Founded in 1946, the GWAA is a 501c6 non-profit, and includes over 800 members from around the world across all disciplines.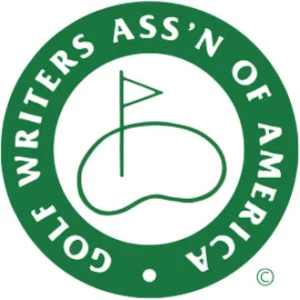 The GWAA publishes an annual directory, monthly newsletters, and maintains historical archives.The board of directors meets regularly with officials from all of golf's governing bodies to review policies, working conditions at events and discuss any issues we encountered while doing our jobs.
Each year GWAA sponsors numerous programs and initiatives, including an annual writing contest and a number of annual awards in recognition of excellence and outstanding contributions to golf and to golf journalism. Award winners are honored at the GWAA Awards Dinner in Augusta, Ga., annually during the Wednesday night of Masters week.