DREAM GOLF TOUR TO SCOTLAND – FALL 2022
TRAVEL IS TRANSFORMATIONAL
All travel can be transformational, however, our golf tours can be life-altering too!
Sept 10th – Sept 18th 2022 |

SOLD OUT
The Dream Tour itinerary includes confirmed and much sought after tee times on 5 World Top 100 Courses, namely Muirfield, North Berwick, Prestwick, Royal Troon and Turnberry Ailsa, as well as a round on Western Gailes and the option to play Dundonald near Troon and the new Dumbarnie Links north of Edinburgh on the two included rest days.
Accommodations include the private hire of the 5-star Hillhouse Country House Estate in Troon for five nights. This beautiful property is nestled in secluded surroundings and is unrivalled in luxury and comfort. It also includes a Games Room with a full sized Billiards/Snooker table, so fun evenings also planned. The final three nights will be spent in a 4-star boutique hotel in the heart of downtown Edinburgh, so opportunity to explore this iconic city when not golfing.
HIGHLIGHTS OF OUR FEATURED DREAM GOLF TOUR TO SCOTLAND IN FALL 2022:
(Click on the arrows to view photos in the slideshow)
THE 2022 ITINERARY
Fri, Sept 9th:   Fly to Glasgow or Edinburgh.
Sat, Sept 10th:   Arrive Glasgow or Edinburgh, meet coach & driver and transfer to Hillhouse, the 5-star luxury private country house near Troon, for 4 nights and play Western Gailes this afternoon on arrival at 3:40 – 4:00 PM.
Sun, Sept 11th:   Play Turnberry Ailsa, ranked #17 in World's Top 100 Courses by Golf Magazine, at 11:27 – 11:49 AM.
Mon, Sept 12th:   Play Royal Troon, ranked #51 in World's Top 100 Courses by Golf Magazine, at 9:00 – 9:20 AM.
Tues, Sept 13th:   Play Prestwick Old, ranked #75 in World's Top 100 Courses by Golf Magazine, at 11:16 – 11:34 AM.
Wed, Sept 14th:  Transfer to 4-star Fraser Suites Hotel in downtown Edinburgh for final 4 nights and sightsee Edinburgh on arrival.
Thurs, Sept 15th:   Play Muirfield, ranked #12 in World's Top 100 Courses by Golf Magazine, at 11:30 – 12:00 noon.
Fri, Sept 16th:   Play North Berwick, ranked #37 in World's Top 100 Courses by Golf Magazine, at 1:30 – 1:50 PM.
Sat, Sept 17th:   Play the new Dumbarnie Links, recently opened to very high critical acclaim and destined for the World's Top 100 very soon, at 11:00 – 11:20 AM.
Sun, Sept 18th:   Transfer to Glasgow or Edinburgh Airport for return flights home.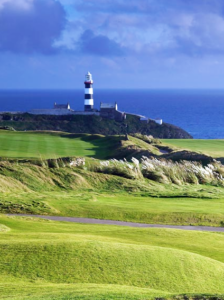 THIS 2022 ITINERARY TO INCLUDE:
▪ 8 nights accommodation in the selected Country House and hotel including full Scottish breakfast
▪ Of 6 rounds of golf on the selected courses, five are ranked in the Top 100 Courses in the World.
▪ Luxury golf coach and driver for 8 days
We welcome non-golfers accompanying golfers on our Dream Golf Trip to Scotland.
For full information on pricing please contact:
Kevin McGrath (480) 219-0280 or email:  [email protected]
The travel provider is Scottsdale Collection
TRAVEL PROTECTION
Now's the time to consider purchasing a travel protection plan to protect your travel investment.
For more information on the available plans or to enroll, click on the link below or contact
Travelex Insurance Services at 800-228-9792 and reference Agency Location number 03-0091.

TESTIMONIALS
♦
Thank you so much for organizing our amazing stay at St Andrews. We could not believe the views, great access, and lovely accommodations. We loved how close we were to The Dunvegan! What an amazing trip and wonderful vacation that we will be talking about for years. At least with our next trip to Scotland we "get it" now. What a great experience we had. Thank you for everything. Much appreciated!
~ Neal and Lindsey Steber, AZ
♦
Thank you for helping me put together and go on the golf trip of a lifetime this past August. I still find myself daydreaming about St. Andrews, Castle Stuart, Turnberry, pubs, beautiful countryside, small towns, Dornoch Castle, and many other delightful places. I am hoping to put together an Ireland golf trip sometime in the next 3 years and will be in touch.
~ Jeff Groshell, WA
♦
This was a perfect trip. I could write all day about how wonderful it all was. Everything I hoped for came true. I had no idea though that I would enjoy the other group members so much. I think starting with BIG Jim's Birthday, everyone felt like we were old friends. It all seemed so personal.
Every detail of this trip was well thought out. We loved the people, the food, the hotels and castle. David so rarely travels and he is ready to go again. You made it all so easy.
~ Linda and David, CA
♦
Bonnie and I are still waiting to come down off the high we experienced while on our recent trip to Ireland. The "surprise" birthday party you organized for me at Dromoland Castle was a great highlight to savor.
However, the "All Roads Lead to Doonbeg" tour through the SW was without question the most enjoyable golf trip Bonnie and I have ever taken. We did not really know what to expect, but the group you assembled was unbelievable and we all ended up with 20+ new best friends.
Your own efforts into ensuring that everything ran smoothly was there for all to see. Bonnie and I cannot wait to return again. Ireland is a magical place and we are both hooked. To be honest, we didn't want to leave!
~ Jim Larmond, Ontario
♦