THE ORIGIN OF SCOTTSDALE COLLECTION
With a background in fine art since 1979, Taba Dale decided to develop a specialty in golf art by creating Scottsdale Collection in the mid 1990s. Scottsdale Collection was the first company to offer golf art on the Internet through GolfData and later GolfWeb, before establishing our own domain-name website in 1997.
We launched ScottsdaleCollection.com in tandem with our invitation to be a vendor at the 1997 U.S. Open at Congressional Country Club. Relishing the opportunity to utilize skills developed over 25 years in the art industry, we created event-specific and site-specific artwork like the Official U.S. Open 1997 Poster. Along with publishing the official U.S. Open Poster, Scottsdale Collection commissioned original watercolors, sold limited edition prints, photography, books and DVDs. Alongside other elite vendors such as Titleist and IZOD, the walls and shelves were nearly bare in the Merchandise Pavilion on the final Sunday when Ernie Els held the trophy.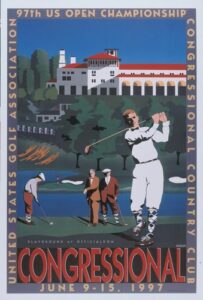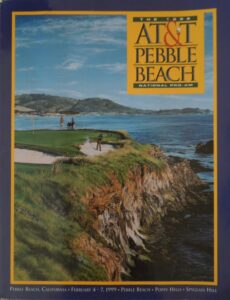 Other significant tournaments we participated in were The 1998 U.S. Senior Open at Riviera Country Club and the AT&T Pebble Beach National Pro-Am in 1999. This Program Cover is derived from an original oil by artist Jesse Hyde.  The tournament organizers asked Jesse to paint the 1998 winner, Phil Mickelson, into the scene. Jesse, who plays to a 3-handicap and is also a lefty, put Phil in the bunker to make sure the viewer recognized who it was!
ORIGINAL PAINTINGS AND PRINTS BY MICHAEL G. MILLER
Following the 1998 Senior Open at Riviera, Michael Miller resigned his prestigious position as Director of Golf to paint full time and Scottsdale Collection became his exclusive agent. Mike was a golf professional for 28 years and from 1993-1998 was the Director of Golf at Riviera. His keen interest in golf course architecture and intimate knowledge of Riviera is apparent in this magical painting. His work has appeared on the covers of numerous books including The Captain, The Golden Age of Golf Design, and the sumptuous coffee table book The Art of Golf Design.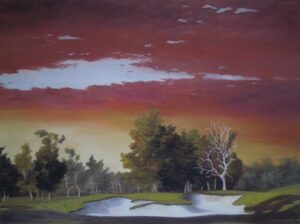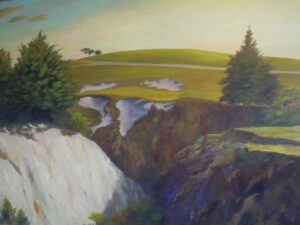 We were extraordinarily pleased to arrange two one-man museum shows for Mike—the first at World Golf Hall of Fame in St. Augustine, FL in 2001 and the second at The United States Golf Association in Far Hills, NJ. Miller's painting of Bethpage, venue for the 2002 U.S. Open was purchased by the museum for their permanent collection.
Working in his nineteenth century style, this is one of many dramatic golf landscapes Mike created of Cypress Point, circa 1930. Tucking the flagstick into the right of this little green complex, Mike reveals designer Alister MacKenzie's strategy to create even more challenge playing this beautiful par-3 hole.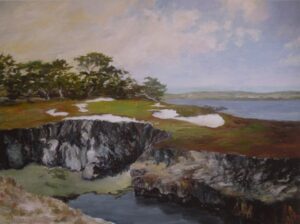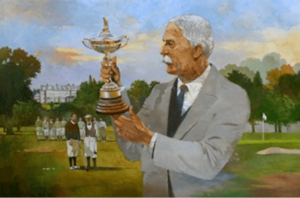 Commissioned Painting By Bart Forbes
This original painting of Samuel Ryder was commissioned by the Concession Golf Club in Bradenton, FL., where it now permanently resides. The richly detailed and historical tribute to the noble and generous man behind the Ryder Cup Matches is now available as a print on paper or canvas. The fine art facsimile is perfect for a clubhouse, office, or personal golf collection.