FERRY TALE
Morfontaine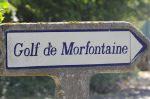 Following behind two metallic burgundy fully-decked-out matching Honda motorcycles (with trailers!), we drove on to the 9am ferry to Fishguard, and departed the dock on time. We were comfy with WiFi and two Pullman chairs on deck 7 of the Stena Line. With endless cloudy skies, a west wind and a calm sea, we are sailing to Wales, where along the way to Holland, we will begin our quest to play 3 more of the Top 100 courses in the world—starting with Royal Porthcawl.
Our main reason for embarking on this 10-day journey to Holland is to celebrate Kevin's sister Gerri's 60th birthday. All of Kevin's siblings will be coming from all over the world, like they did for his 60th birthday last year in Liscannor on the Emerald Isle.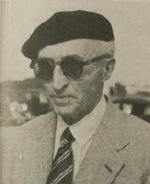 Walton Heath and Porthcawl will merit stories of their own, but perhaps the most looked-forward-to round of all is Morfontaine, #54 on the Top 100 in The World (2009, Golf Magazine). North of Paris in the Chantilly, Oise region, we are guests of Laure de Gramont, the granddaughter of the aristocratic owner.
In 1913, the 12th Duc de Gramont (1879-1962),
a keen golfer, engaged the eccentric Englishman, Tom Simpson (1877-1964) to design a 9-hole golf course, near his estate Chateau de Valliere, on what was originally a polo field. In 1927, Armand de Gramont once more commissioned Simpson—whose clients included Royal Lytham, Cruden Bay and Ballybunion―to design an 18-hole course. With some recent alterations by the American architect Kyle Phillips, it lived up to its reputation of being a "museum piece."
We have permission to invite some friends, so we are delighted that Nancy & Michael Bamforth, who live in Belgium, will be joining us. We are extremely grateful that they speak perfect French, as Michael learned from the secretary –manager when providing their handicaps that the men are required to wear long pants. Thankfully we have been spared the embarrassment of Kevin showing up in his perennial favourite shorts. Mon dieu! That is, when we finally do show up—as our "route-planner" directions only bring us to the ancient town and we are now looking for a place that does not want to be found!
After a delicious lunch on the veranda of the ivy-covered, understated clubhouse —with a glass of wine (bien sur!)—the four of us set out on our round. Other than one member playing by himself, we were the only people on the oh-so-private Morfontaine. Starting on the first tee near the sandy parking lot, we wove our way through the magical forest along the pine tree-root-bound paths and lengthy heathery carries. There is no way to describe this experience other than to employ another Oscar Wilde quote:  The true mystery of the world is the visible, not the invisible.
With a little rain and a lot of humidity, we completed our round, full of wonder and a very good appetite for a fabulous meal in the medieval village of Senlis. Saw-lease. Nancy taught me how to pronounce it correctly.
We parked near the magnificent Cathedral (dating to the 12th century) and in the fading daylight, walked on the cobble stone streets to Porte Bellon, where Nancy and Michael had stayed and eaten the night before. Something to drink? Yes, please, I'll have a glass of shampoo! What else could a champagne-loving golf geek do? A true fairytale day.